You're Invited to Take Advantage of the Web Art Academy Club's
Fine Art Video Course!
Click the Audio Player below:
Dear Fine Artist,
– Have you seen beautiful old paintings and wanted to paint as good; however think that secrets of the Old Masters are forgotten today?
– Would you like discover how to paint and draw like the Masters of the past and improve your fine art skills?
– Do you need talented fine art teachers who can show you how to paint and draw by their own example?
The Web Art Academy Club offers Fine Art Video Lessons that reveal classical oil painting and drawing techniques.
In our time even at the top art colleges and top art schools teachers do not show how to paint by their own example. Ask yourself: "Is your teacher one of the greatest artists living today?" If not, how you can be taught the secrets of Old Great Painting Techniques by example?
Wouldn't it be great to learn from teachers who can explain the classical oil painting methods and show you how to perform these methods by their own example?
The co-founders of the Web Art Academy are taking a
limited number of students into the full fine art painting and drawing course at an introductory price.
Here's what the Web Art Academy Club offers:
In the Club you will discover traditional painting and drawing techniques, presented by a professional fine artist.
It's as good as sitting next to the fine artist in real life, watching the artist in action and listening to her comments about how artworks are created.
The Video Course contains 12 high-definition multi-part video lessons that show the process of oil painting and drawing, step by step.
Through the Club's lessons you will master all the skills and tricks you need to know to become a proficient fine artist.
The course is presented over a period of six months. Every month two new videos will be added for you.
In addition, as a member of this very exclusive Web Art Academy Club, you will also get free bonuses – four downloadable Fine Art Books every month – 24 books in total!
There will also be unannounced bonuses delivered to your email every month!
As a member of the Web Art Academy Club you will have access to:
12 High-definition, multi-part Video Lessons presented by Natalie Richy, and FREE Bonuses – 24 Fine Art Illustrated Books: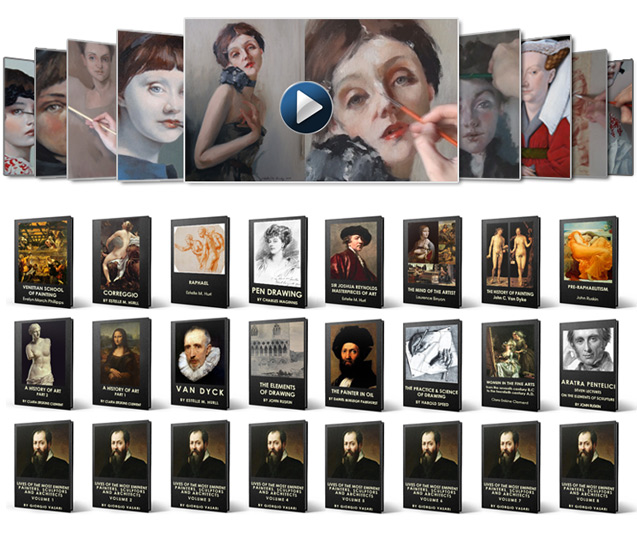 Here's what our students say:

Thanks,
Paulo

"I think it is great what Vladimir & Natalie are doing for the world of art! We need more artist's in the world surviving an thriving! I am a professional and have participated in over 600 art shows around the country and sell my originals paintings for $1000.00 of dollars. I have never taken a class before and have painted from landscapes to goddesses. I am known as The Heart Artist, as you can see on my website http://www.
TheHeartArtist
.com.
I thoroughly enjoyed the first few videos and looking forward to more!"
Thanks, Debbie

"I'm used to be the Latvian Academy of Art student; now I'm on maternity leave. I just wanted to say big 'thanks' for the chance to test pre-released Web Art Academy Painting and Drawing Video Tutorials!
I am really impressed with Web Art Academy educational videos. It was exactly what I wanted – to learn the old masters painting methods.
For me, as young mother, Web Art Academy virtual course is the perfect solution and great opportunity to study fine art at home. The quality of tutorials is excellent; I especially like step by step lessons. Even studying at real offline academy didn't give me as much as these tutorials! I have already recommended Web Art Academy website to my former course mates. Thank you again. If you thinking to subscribe to Web Art Academy courses, do it now!"
Marina

"Hello everyone, Natalie was my art teacher for about one year. She has excellent knowledge of oil painting technique which she generously shared with me. Now, because we are living in different countries it isn't possible to continue face to face coaching. So, I'm impatient to become a Member of Web Art Academy where Natalie is one of the Tutors. I'm so excited to keep on learning and improving my drawing and oil painting skills."
Katja
"My name is Pavel. I am interested in drawing and painting since I was 6. Last year I graduated from art and design College, but I could paint nothing except abstractions and conceptual paintings. Finally, thanks to the Web Art Academy's Video Tutorials I've got opportunity to learn how to paint using different Old Masters techniques – especially I fancy painting on dark backgrounds and creating effects like in Caravaggio paintings. Tutorials are really great!"
Pavel
This Introductory offer will not last long!
The price will rise after we take in a limited number of students to get their initial feedback.
If you are reading these words, it means you still have a chance to secure your place in the Web Art Academy Club and you don't want to miss it.
To Your Creative Success,
Natalie Richy and Vladimir London
Web Art Academy Founders
P.S. There are no other offers like this. This powerful, never-before-seen Web Art Academy Video Course is your one-stop guide to the fame and creative success you deserve. Act now and you will also get the valuable bonuses you cannot afford to miss.