Art market euphoria replace by realism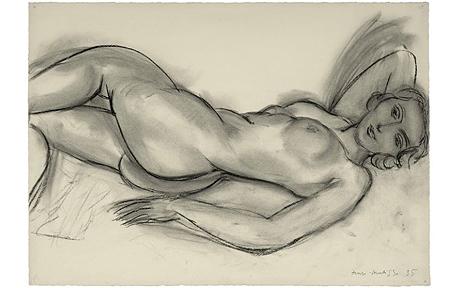 London salerooms produced a record series of Impressionist and Modern art auctions last week, but only just
By Colin Gleadell
After the buzz of expectation created by the London salerooms, they did produce a record series of Impressionist and Modern art auctions last week, but only just. Mid-way through the fifth and final session, the sales total crept past the previous record of £298 million, set in June 2008, finally ending up at £303 million. There were no celebrations, however, and a palpable air of disappointment pervaded. Strip away the auctioneers' commissions, and the total was nearer £250 million, below the £300 to £450 million estimate for the series.
Things began badly at Bonhams, which sold none of its top lots. A Chagall painting, bursting with figures and energy, was estimated to fetch at least £1.2 million. But buyers were put off because it was said to have been painted over 30 years, and it bore a stamped rather than hand-written signature.
Although Sotheby's sold most of its top lots, it was touch and go for several of them. The much-heralded Manet self-portrait sold, albeit for a record £22.4 million, on just a single bid on the low estimate from Franck Giraud, the dealer who bid a record £32 million on behalf of the Qatar royal family at the Yves Saint Laurent sale last year for a Matisse still life. And Russian interest appeared to have rescued a highly estimated Soutine portrait of a seated valet. The only visible bidder was Alex Lachman, a dealer from Cologne who advises Russian collectors, and who bought it on the low estimate for £7.9 million.
Occasionally, Russian or Ukrainian bidders locked horns with Americans to push the bidding up over estimates and to record levels for Andre Derain, whose fauvist landscape from the Ambroise Vollard collection sold for £16.5 million, and for a drawing by Matisse, whose reclining nude sold for £5.9 million.
Christie's main sale set a new record for a UK auction at £153 million, but was, none the less, below its target. This was due mainly to the failure of a Monet painting for which £30 million was being asked. Neither the composition, a lily pond partly obscured by mist, nor the knowledge that it had been for sale privately before the auction, helped to justify the price. Another flop was a rare, early, and no doubt historically interesting painting by the German expressionist, Otto Dix, for which Christie's was hoping to get a record £4 million. However, this was a case of something being just too rare for the market. The painting did not look like a typical Dix, and it, too, was unsold.
Carrying the day for Christie's was Picasso's blue period portrait of Angel Fernandez de Soto from the Andrew Lloyd Webber Foundation, which could now be on its way to the Far East. It was bought for £34.8 million for an anonymous client by Jen Lyn Low, a Christie's expert in Chinese works of art, recently seconded to the Impressionist department to develop its business relations in Asia. But it hardly sparked a bidding war. Probably the most bullish area of the market was for late Picasso. Le Baiser (1969), a typically primitive depiction of a couple embracing, had been sent for sale by US newsprint magnate Peter Brant who had paid £2.8 million for it in 2003, a record for a late Picasso. Last week it sold for £12 million.
Failing to reap any rewards were a Matisse paper cut-out that had been unsold in New York last November with a $3 million to $4 million estimate, and was unsold again in spite of its vastly reduced £500,000 ($760,000) estimate, and a portrait of a showgirl by van Dongen that went through the roof in 2007 when it sold for quadruple estimate £1.7 million, but found no buyer this time to match that price.
Such failures, though, were the exception as a very solid 80 per cent of the works offered last week found buyers. The fragility shown at the top end of the market was because the estimates were too high. High estimates are set to meet sellers' expectations, and are often the result of competition between the salerooms when trying to influence sellers where to sell. What with oil disasters and fears of a double-dip recession, the market has perhaps changed from two months ago, when the estimates were set still in the euphoria created by $100 million prices for Picasso and Giacometti.
Last week saw a correction to that euphoria; a correction that will have to be taken into account for the next big Impressionist sales in New York this autumn.