Clothed male, naked female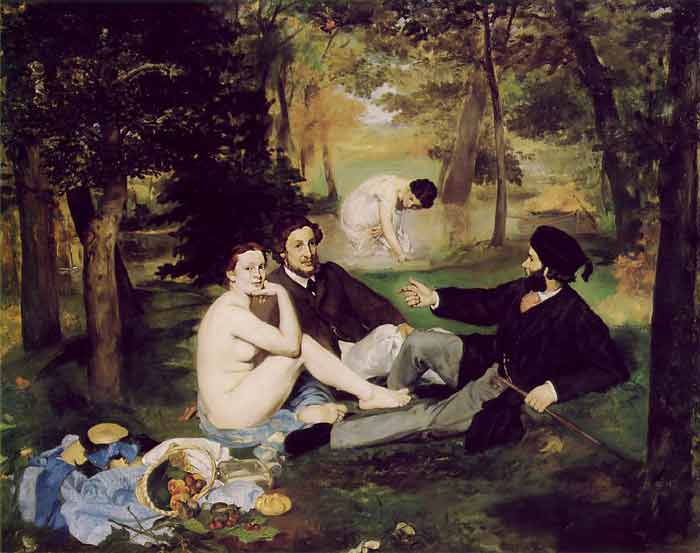 Clothed male, naked female in Art
Clothed male, naked (or nude) female (on the internet sometimes abbreviated to CMNF) is a genre of erotica featuring one or more nude women and one or more clothed men. Such a scenario is described as a sexual fantasy by some men and some women. A common (but not essential) feature of such fantasy scenarios is that the woman's one-sided nudity portrays the woman's sense of vulnerability and humiliation in relation to the clothed man.
One-sided female nudity can occur in actuality when a woman disrobes for the sexual pleasure of a man or other men, such as in a BDSM, sexual roleplay or other sexual activity, as an indication of sexual submission. Some women disrobe for men as a form of entertainment, such as during a striptease. One-sided female nudity in public is usually regarded as exhibitionism, streaking or flashing. The posing of a female art model in an art class can also involve one-sided female nudity, but is less overtly sexualized.
The opposite to CMNF is clothed female, naked male (CFNM).
One-sided female nudity has also been depicted in art, particularly in the Orientalist paintings of the 19th-century. A typical scene would often contain depictions of white slavery in which one or several nude females would be displayed before an audience of men as part of a slave auction. The archetypal example of this type of scene is Jean-Léon Gérôme's The Slave Market, in which a nude female slave is examined by a potential buyer. Another example is Gérôme's Phryné devant l'Areopage (Phryne before the Areopagus, 1861) which was based on the trial of Phryne before the Areopagus in ancient Greece. The odalisque (harem scene) was also a popular subject for depicting one-sided female nudity, although the clothed figures in the scene were not always male.
Outside of the Orientalist style, a less popular scenario for one-sided female nudity in 19th-century art was the knight-errant, in which the stereotype of the damsel in distress was used to explore the erotic subtext of the powerful knight coming to the rescue of a helpless female. The best known example of this is John Everett Millais' painting Knight Errant, in which a nude woman has been tied to a tree and a knight is shown cutting her loose. The painting initially created controversy when it was first displayed, because the nude female was shown facing her rescuer, a posture which was considered too sexually suggestive for European audiences.
Millais repainted the figure so that she was looking away from her rescuer. This reaction of shock by 19th-century audiences highlights the potential of CMNF as a mechanism for both challenging and reinforcing gender stereotypes.
Édouard Manet's Le déjeuner sur l'herbe ("The Luncheon on the Grass"), in which a nude woman is depicted having lunch with two fully clothed men, is another famous painting whose themes were controversial when it was first displayed in 1863.