Dealer donates master drawings to Art Institute Chicago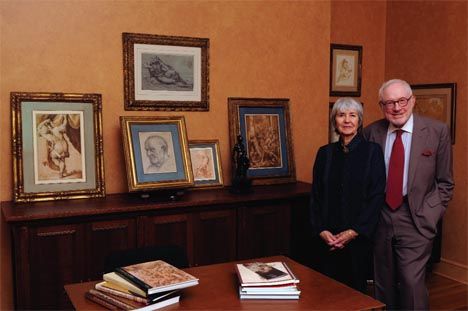 Richard Gray, who has galleries in Chicago and New York, is donating a substantial portion of his collection to public museums
US dealer Richard Gray, who has galleries in Chicago and New York, is donating a substantial portion of his collection to public museums. Predominantly works on paper, his 200-strong collection is rich in early Italian and French old masters, as well as late 19th-century and early 20th-century European and US artists.
Nine promised gifts to the Art Institute of Chicago will be officially announced at the opening of its exhibition "Gray Collection: Seven Centuries of Master Drawings" (24 September-2 January 2011). "The bulk of the collection will end up at the Art Institute," says Gray. "But I have started conversations with a number of other museums, which I cannot announce yet."
Works represented in Gray's collection (and on show in the upcoming exhibition) include Van Gogh's Avenue of Pollard Birches and Poplars, 1884, Poussin's Studies after Andrea Mantegna and after the Antique, 1635-40, Willem de Kooning's Woman, 1950-51, and David Hockney's Celia in Hollywood, 1984. A large number have been on loan to major museum shows, says Gray.
The Art Institute of Chicago exhibition will feature 133 works. The catalogue, with contributions by around 60 authors and scholars, is a project of Yale University Press and the Art Institute. Contributors include François Borne, an expert formerly at Christie's.
"Richard has an amazing eye and his donation is a grand gesture that will elevate the Art Institute and the city as well," says Munich-based old master drawings dealer Katrin Bellinger, who is also affiliated with London gallery Colnaghi. "That kind of gift to museums is not happening in Europe."
Gray was instrumental in the formation of the collection of Leslie Wexner—a major donor to the Wexner Center for the Arts which was named in honour of his father. The Ohio entre preneur's collection includes work by Giacometti, Dubuffet and Picasso. In addition, Gray's gallery has sold to more than 50 museums, including New York's Metropolitan Museum. "There's something about the history of dealers as collectors," says Gray. "They've made a major contribution to museums."
Gray established the Gray Collection Trust, a private operating foundation to facilitate his planned gifts. The trust also acquires work, researches, publishes and lends as well as funds related activities. "It's a way for me to funnel things into the public domain," says Gray.
By Brook S. Mason
The Art Newspaper