Munch's Madonna sells for record £1.25 Million.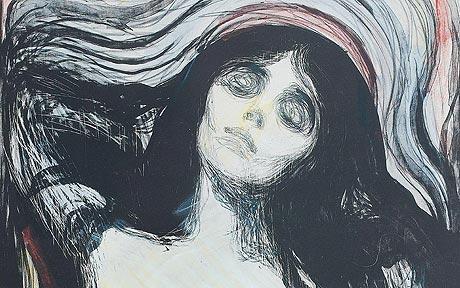 Edvard Munch's Madonna sold for £1.25 million
A hand-coloured image of Edvard Munch's Madonna sold for £1.25 million today – doubling its estimate and making it the most expensive print ever to be sold in the UK.
The controversial artwork, in Munch's famous swirling style, had been estimated to fetch £500,000 to £700,000 at Bonhams Prints sale in London.
Bonhams said that as well as setting a UK record, the image was also the second most expensive print to be sold in the world.
Another Munch work, Vampire II, sold in Oslo in 2007 for around £1,256,000.
The Madonna artwork was snapped up at Bonhams by a private buyer from the United States, for £1,252,000 including buyer's premium.
The work, which has not been shown in public before coming to auction, is signed and dated 1895, the year of its creation.
The artist re-worked his original idea several times between 1895 and 1902.
The print is from the very first state and is, according to Bonhams, arguably the earliest hand-coloured impression.
It shows the Madonna in yellow and white set against a halo of blue, green and red.
The central figure is surrounded by a blood red border containing forms resembling sperm and a foetus.
The model for the Madonna was Munch's mistress, Dagny Juel, described as a "femme fatale" who after numerous ill-fated affairs was shot dead by a young lover in a Tblisi hotel aged 33.
The work, described as being in "excellent condition" had been in the same family for more than 100 years.
Bonhams head of prints, Robert Kennan, said: "It has been a real privilege selling such a wonderful image and it fully deserves to have achieved such a fantastic price."
The work was sold on behalf of the estate of abstract expressionist artist Frank (Albert) Avray Wilson.
It was previously in the collection of his wife Ivy Eckbo, the adopted daughter of Eivind Eckbo, a Norwegian businessman and philanthropist who owned several Munch lithographs.