Picasso's £70m mistress masterpiece smashes art auction world record
A Picasso painting of one of his mistresses today sold for £70.3million ($106.5million) — a world record price for any artwork sold at auction.
The 1932 Nude, Green Leaves And Bust, which had a pre-sale estimate of £46 million-£59million, was sold to an undisclosed telephone bidder at a Christie's impressionist and modern art auction in New York.
The sale — equivalent to £21,537 for each square inch of the artwork — surpassed the £65million paid for Giacometti's L'Homme Qui Marche at Sotheby's in February.
The previous highest price for a Picasso was $104.2 million for Boy With A Pipe (The Young Apprentice) sold at Sotheby's in New York in 2004.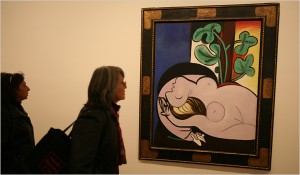 The painting, a large-scale depiction of Pablo Picasso's mistress Marie-Thérèse Walter nude, was sold by the estate of Frances Brody, a Los Angeles philanthropist who died last year.
Mrs Brody and her late husband Sidney, a property tycoon, bought the picture for $19,800 from Picasso's agent Paul Rosenberg in 1951.
In the picture Walter is reclining naked, transformed into ancient Greek nymph Daphne with a philodendron plant sprouting from her body. Picasso depicted himself in shadow form above his mistress with a suspended curtain symbolising that he was keeping the affair a secret from his wife Olga Khokhlova.
Nine buyers from Europe, Asia and the US competed for the picture. Christie's auctioneer Christopher Burge said he would not divulge the identity of the buyer "even under threat of torture".
Picasso painted the portrait over the course of a single day in March 1932, when he was at the peak of his career. It is one of 30 portraits of Walter, who committed suicide in 1977, four years after Picasso's death.
The picture is one of the artist's most-admired works for its colour, form and imagery, with its mystique heightened over the years by the Brodys' refusal to let curators take colour photographs of it. They rarely loaned it for exhibition.
Conor Jordan, head of impressionist and modern art for Christie's New York, told the Standard: "The supreme quality and the rarity of the picture are why it achieved a world record price.
"It's the type of Picasso that has always been the most sought-after by collectors. It was in wonderful condition, fresh to the market and virtually an unknown picture. It's a wonderful evocation of romantic obsession and all that it can entail."
Art dealer Jean Zimmermann said: "It's not surprising the picture has sold for over $100?million. Picasso was an erotic painter and this painting is pure sex."
The Brody collection also included two Giacometti sculptures which sold well above their high estimates. Grande Tête Mince — a bust of his brother, Diego, from 1955 — was bought by dealer Guy Bennett for $53.2million (£35.2million) while Le Chat, also 1955, fetched $20.8million (£13.72million). There were also world record prices for French Cubist Georges Braque and 19th century French realist painter Jean-François Raffaëlli. But the sale of Edvard Munch's Fertility, a sensual 1899-1900 painting which was expected to fetch $25million-$35million, was stillborn with bidding ending at $23million.
Sales totalled $335.5million (£221.5million). Mr Jordan said: "Today served as a re-affirmation that it's a very healthy marketplace."
Tonight Sotheby's holds its impressionist and modern art sale with works by Matisse, Monet and —Picasso.
by Tom Teodorczuk