Stolen Caravaggio Painting Resurfaces in an Online Auction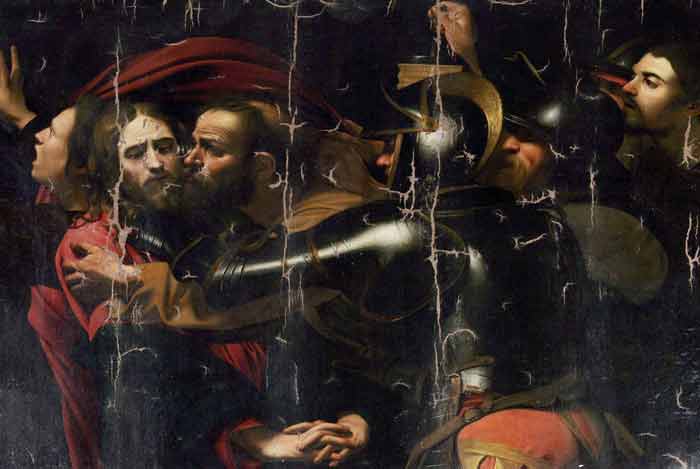 Stolen Caravaggio Painting
Barely reported here in the U.S., a version of Caravaggio's 17th century masterpiece, the Taking of Christ (Judas' Kiss) was stolen from the Museum of Western and Eastern Art in Odessa, Ukraine and has been recently uncovered at a Moscow online auction.
The dramatic painting dating back to 1602 by the Italian Baroque master, Michelangelo Merisi da Caravaggio, depicts Judas embracing Our Lord and betraying Him with a kiss in the Garden of Gethsemane, a very apropos theme as we commemorate these events during this most Holy Week.    The National Gallery of Art has a greatanalysis of this painting, for those who are interested in learning more about it.
Reuters reported that the thieves "entered through a window, bypassing an outdated alarm system by removing a pane of glass rather than breaking it. They then escaped across the museum's roof."  At that time Vitaly Abramov, the deputy head of a second museum in the city, the Odessa Art Museum called the theft "a cultural catastrophe, a national tragedy".
A few weeks ago the painting was discovered because of an anonymous letter that Vladimir Ostrovsky, the Director of the museum received suggesting that the stolen artwork was to be found in an online auction for $2 million.
Vladimir Ostrovsky told the Ukrainian Independent Information Agency (UNIAN) that he "got frightened" when he saw a photo of "The Taking of Christ", as well as an announcement saying that it was on sale for a mere $2 million.
According to Ostrovsky, the price is ridiculous. Art experts estimate the Caravaggio piece to be around $100 million.
Ostrovsky said that, although he was unsure whether it is the stolen item in question or just a replica, he immediately informed the Ukrainian law-enforcement authorities about it.
The other version of the same work of art is housed at the National Gallery of Ireland.  It also had a history of disappearing.  Its whereabouts remained unknown for 200 years until it was discovered in 1990 at the Society of Jesus residence in Dublin, Ireland.
Source: stmichaelsociety.com
Enroll in the Web Art Academy Course:
Three Monthly Installments
Pay for the course in 3 easy installments
Receive 4 new videos monthly (12 in total)
Incredible discount – $3,287
Bonuses – Fine Art eBooks and Videos
Personal coaching by Web Art Academy Tutors
Web Art Academy Diploma of Excellence
Full membership after the 3rd month
Total cost: $291 (three $97 installments)
Complete Course -
BEST VALUE
Get all video lessons for a one-time payment
Instant access to all Video Lessons and Bonuses
Incredible discount – $3,321
Bonuses – Fine Art eBooks and Videos
Personal coaching by Web Art Academy Tutors
Web Art Academy Diploma of Excellence
Full membership from day one
Total cost – Only $257


To Your Creative Success,
Natalie Richy and Vladimir London
Web Art Academy Founders