Stolen Vermeer: The largest theft of all time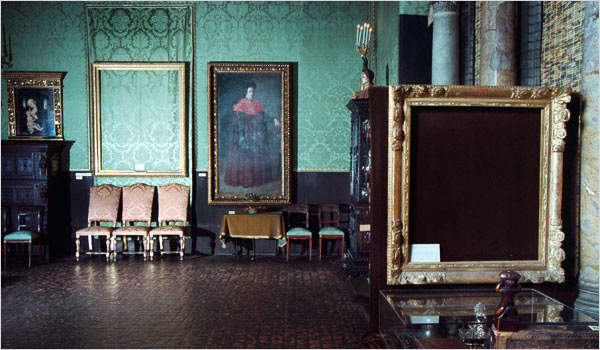 Boston art theft remains biggest unsolved mystery
By John Wilson
Vermeer's The Concert is estimated to be worth around £200m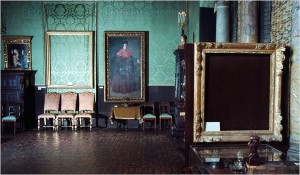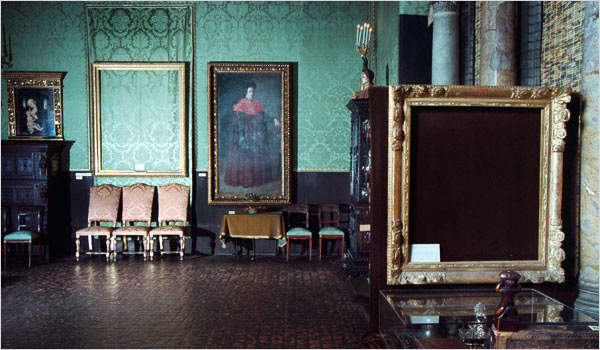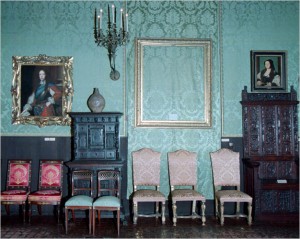 The Gardner robbery remains the largest single property theft of all time
As crime scenes go, it has got to be one of the most beautiful.
The Dutch Room of the Isabella Stewart Gardner Museum in Boston is lined with green silk wallpaper, from terracotta cobbled floor to oak timbered ceiling.
On one wall hangs a Van Dyck, on another a Rubens but these artworks are not the first things one notices in the first floor gallery.
It is the empty frames that stop you in your tracks.
One, an ornate gilded rectangle framing nothing but green wallpaper, once held Storm On The Sea of Galilee, Rembrandt's only known seascape.
And, next to the window, there is an easel on which was propped The Concert, one of only 36 Vermeer paintings known to exist.
In the early hours of 18 March 1990, both paintings were ripped from their frames.
They disappeared, along with two other works by Rembrandt, five sketches by Degas, a Manet painting, a landscape by Flink and – bizarrely – a bronze finial from a Napoleonic battle flag.
Largest theft
Not one of the artworks – worth an estimated $500 million (£350m) today – has ever been seen again.
Now, exactly 20 years on, the Gardner robbery remains the largest single property theft of all time.
Built by Boston heiress Isabella Stewart Gardner in 1903, the museum was modelled on a 15th Century Venetian palazzo.
"I spend an inordinate amount of time in this room, looking at these empty frames," says Anthony Amore, the director of security at the museum.
"If you were a homicide detective, you'd go to the scene and once the bodies were removed you'd see the taped outline of the person on the floor. I come in here every day and these are my taped impressions."
The reason the frames remain is due to Mrs Gardner herself. An avid 19th Century collector, she scoured the auction rooms of Europe picking up masterpieces with the help of her personal shopper, esteemed art historian Bernard Berenson.
She curated the museum personally and decreed in her will that nothing should ever be moved. Every frame hangs exactly where she hung it, every ornament exactly where she placed it.
Although Vermeer's The Concert is probably the world's most valuable single stolen artwork – estimates value it at around £200m if ever sold – the Gardner Museum holds an even greater treasure.
But at nearly seven feet (2.1m) across, Titian's The Rape of Europa was probably too big for the swag bag.
Dressed as Boston cops and sporting false moustaches, the thieves spent well over an hour in the Gardner galleries after handcuffing the hapless guards – both young music students doing part-time work – in the basement.
The Vermeer and the Rembrandt were obvious targets for any thief with a rudimentary grasp of art history. But the decision to unscrew five Degas sketches from the wall of a gallery is one that has perplexed every investigator who has worked on the case.
According to Charley Hill, a former Scotland Yard detective turned private investigator, the key to the crime is the time it took place.
"It may technically have been 18 March 1990 but it was just after midnight as St Patrick's Day celebrations were still going on. And that's a big, noisy night in an Irish city like Boston," says Hill.
As an undercover detective, it was Charley Hill who led the sting operation that recovered Edward Munch's painting The Scream, stolen from the National Museum of Norway in 1994.
In the frame
Hill has been following a network of leads, many provided by underworld contacts, for 16 years. He says they all add up to one name – Irish American mob boss James "Whitey" Bulger.
Number two on the FBI's most wanted list – behind only Osama Bin Laden – Bulger has a $2m (£1.31m) bounty on his head.
There is also a note on the Bureau website reminding us that – as Whitey is wanted for 19 murders, has a violent temper and carries a knife – we should not approach him.
Thirteen art works were stolen

The thieves were let into the museum through two sets of locked security doors at 1:24am, 18 March 1990

It is believed they spent exactly 81 minutes inside the gallery

A reward of $5 million (£3.28m) has been offered for information leading to the return of the works of art in good condition
There is nothing on the FBI website about Vermeer, Rembrandt and the others.
So what would a man suspected of murder want with the paintings?
Hill believes that – even if Bulger did not order the heist originally – he would have muscled in and taken control of the haul soon after.
"He's never been interested in the sale of them, he's interested in using them as barter," says Hill.
Offering up the long lost art might just buy him, Hill says, "a softer pillow and a better view" in whichever federal penitentiary he would find himself in if he was ever caught.
Hill's investigations have led him to remote villages in the Republic of Ireland, where – according to his sources – Whitey sought refuge and "laid down" the Gardner art.
Since then, Hill believes, the paintings have been looked after by criminals who owe a debt to Bulger.
FBI Special agent Jeffrey Kelly confirms that Whitey Bulger is on his list of suspects but won't reveal whether he concurs with Hill's theory.
Exactly 20 years on, the Gardner heist remains one of the great crime mysteries. But – with the theft of genuine masterpieces – it is also an act of appalling cultural vandalism and an artistic tragedy.
John Wilson reports on the biggest unsolved art theft on Front Row, Radio 4's flagship arts programme, Thursday 18 March, 1915 GMT or afterwards on iPlayer.