Two of the world's top art-theft sleuths discuss the heist from the Museum of Modern Art in Paris
Two of the world's top art-theft sleuths discuss the heist from the Museum of Modern Art in Paris
by Milton Esterow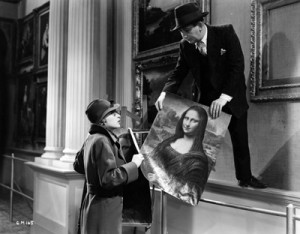 What are the theories of two of the world's top art-theft sleuths about the heist early Thursday morning of paintings by Picasso, Matisse, Braque, Modigliani, and Léger worth at least $120 million from the Museum of Modern Art in Paris?
"To get out of jail free, crooks use stolen paintings as negotiating cards," said Robert Wittman, who created the Federal Bureau of Investigation's art-crime team and is now a private art-recovery specialist.
"When they get arrested for other criminal activity, they make a deal by providing information that leads to the recovery of stolen paintings," he said.
"The thief took care in removing the paintings, and it suggests that this was more than simply a grab-your-trophy-picture-and-run," said Charley Hill, who was once a top member of Scotland Yard's fabled art and antiques squad and is now a private detective based in London.
"I suspect that the theft may have something to do with the current trial in France of three men who stole paintings by Picasso from Diana Widmaier Picasso, Picasso's granddaughter, in 2007," Hill added. "If they are convicted, the five paintings stolen from the Museum of Modern Art could turn out to be some kind of bargaining over the length of their sentences."
According to the French police, a series of security blunders allowed a lone hooded man to remove a reinforced window and slip into the museum. The alarm system had been broken for three months and the closed-circuit television monitored by guards covered only the roof.
The alarm "was going off all the time, causing unnecessary alerts," one security guard told a reporter. "That's the reason management chose to switch it off." An official who is deputy to the mayor of Paris was quoted as saying, "There are three [security] people in the museum at all times but those three people saw nothing." The police said the paintings were cut out of the frames.
"It was a crime waiting to happen," said Wittman, who with John Shiffman has written the memoirPriceless: How I Went Undercover to Rescue the World's Stolen Treasures. The book will be published in June by Crown. Wittman was with the FBI for 20 years and often risked his life as the agency's chief art hunter and only undercover art agent. He recovered more than $225 million worth of art and antiquities.
"There are gangs of thieves in France, a loose-knit group, based in the south of France, in Marseilles and the Riviera," Wittman said. "Southern France is the entry point. They bring in drugs, they steal yachts, autos—Mercedes and BMW, which they sell in Eastern Europe—and art.
"These gangs know each other. They all know what's available and what's on the market. They talk to each other. At one point when I was working undercover in Marseilles, I received information that they had 76 paintings for sale. They have them in different places throughout the country.
"When I was working undercover in Paris, I was posing as the buyer of the paintings stolen from Picasso's granddaughter. We set up an operation where a French police officer posed as my authenticator of the paintings—he would say whether they were real. When the thugs brought out the paintings, they were arrested."
Hill once told me that art crime is "serious farce." How come? It's serious because the art is irreplaceable, but the farce develops when you're fencing with crooks. When he was with Scotland Yard, Hill was involved in the recovery of many works, including paintings by Titian, Goya, and Munch.
"The guy who stole the five paintings relied on cunning, knowledge, and meticulous planning," said Hill.
Wittman said, "I'm sure the thug had information that the motion detectors were not active. All he had to do was break the window. When I was at the FBI, we did a study in early 2000 and found out that more than 80 percent of museum thefts involved insiders. It does not necessarily have to mean employees. It could be people who would have inside information—outside experts or relatives of employees."
Hill said, "The thief knew there were guards in the building. Somebody told him about the faulty security system and the guards' habits in the early hours of the morning. He knew enough so that he could go from one point to another without being noticed."
Do current or former officers of the FBI and Scotland Yard always agree with each other?
"It's the first time I've agreed with the FBI," said Hill with a smile.
"I've agreed with Scotland Yard many times," said Wittman with a smile.
Milton Esterow is editor and publisher of ARTnews.