474-year-old painting stolen by Nazis given to owner's heirs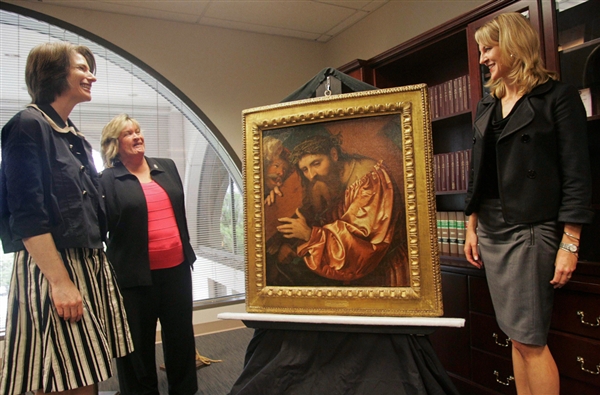 A stolen Italian work of art worth millions. U.S. Special Agents. Interpol. And a worldwide hunt that ended in a small Tallahassee art museum.
That was the set-up for the scene Wednesday when U.S. officials handed over a 474-year-old painting to the family of Frederic Gentili di Giuseppe, a wealthy Paris Jew who died in April 1940, just before France was invaded.
"I'm thrilled that the day has finally come when we can present the heirs of Gentili di Giuseppe with this treasure taken from them some 70 years ago," said U.S. Attorney Pamela Marsh, who asked a federal judge last November to order the return of the painting.
The work in question is a 1538 painting by Girolamo de Romani, also known as Romanino, depicting an image of Jesus Christ in an unusual copper-colored robe, carrying the cross on his right shoulder while being dragged by a soldier. It was held in private collections by European families until 1914, when Gentili purchased it.
When the Nazis marched into France, many of Gentili's heirs fled — but weren't able to take the family patriarch's art collection and many other valuables.
Vichy French authorities auctioned off the property, including more than 70 pieces of art, and barred the family from returning to claim the art work in 1941. The Romanino painting was acquired by the Italian government-run museum Pinacoteca di Brera in 1998.
Gentili's heirs — scattered to England, France, Denmark and other parts of the world — have been attempting to recover their grandfather's art collection for decades. In 1999, a French court ordered the Louvre to return five pieces of art work to the family. Since then, the family has retrieved works from museums including the Art Institute of Chicago, the Museum of Fine Arts in Boston and the Art Museum at Princeton University.
Gentili attorney Maitre Corrine Herskovitch said the family has recovered 20 pieces in all, but 55 more — plus a valuable book collection — are still missing.
Herskovitch had tried for 12 years to get the Italian government to return the Romanino painting. Then, about a year ago, Cécile Bernard, a Christie's art executive in Paris, discovered that the museum had lent the painting to the now-closed Mary Brogan Museum of Arts and Sciences in Tallahassee.
Bernard immediately called Lionel Salem, a grandchild of Gentili's who lives in London, "and of course, that started the whole story," said Salem, who spoke to reporters by phone Wednesday.
When Interpol was notified, it called the U.S. Department of Homeland Security, which contacted Marsh's office. In November, the painting was seized and in February, a federal judge ordered that it be handed over to the family. The family's claim was not contested, enabling the case to be fast-tracked.
Now, the family has decided to auction the painting — it's insured for $2.5 million — at Christie's in June, Salem said, because there are six heirs.
"One person will say, 'I'll have a cross,'" Salem said. "Then some other person will say, 'You can take the nasty fellow on the upper left. She can take the beard.' But what actually happened is all six heirs wanted the most beautiful part of the painting, and that's the [copper-colored robe] sleeve. And that's why we're obliged to sell it."
But Salem said there was an emotional value in recovering another family heirloom. "Each time, each time we find a painting, the heart beat gets faster and that's the first step," he said. "And each time a painting ends up with us, the heart beat gets even faster."
But, he noted, it will likely be left to his children and grandchildren to see the full recovery of all of his grandfather's valuables.
Herskovitch said her client's win underscored a deeper issue: Many European Jewish families still have not recovered family heirlooms that were lost — and likely stolen — during World War II. Herskovitch said that in France alone, it is estimated that 100,000 paintings were looted during the Nazi occupation.
And in many cases, it has taken decades to win even small victories.
Florida has seen similar proceedings in the past.
In 2001, Hungarian Holocaust survivors living in Florida filed a lawsuit against the federal government over its mishandling of the Hungarian Gold Train, a Nazi-run train that carried valuables stolen from Jewish families' homes to Berlin.U.S. militaryforces seized the train, but virtually none of the items were returned to their rightful owners. The U.S. government and the survivors eventually reached a settlement worth $25.5 million.
Sam Dubbin, a South Florida attorney who represented the survivors, said cases involving Holocaust survivors are complicated on many levels. They frequently involve international law, hard-to-track documents plus the memories of victims who often were very young during World War II. But, he said, many feel compelled to take on these cases, even though they bring up painful memories and may not be resolved during their lifetimes.
"They believe they have a moral obligation to their loved ones and the future to tell the story and to expose the actual conduct of that period of time," he said. "That's what motivates them."