$50 million Vincent van Gogh painting stolen by two Italians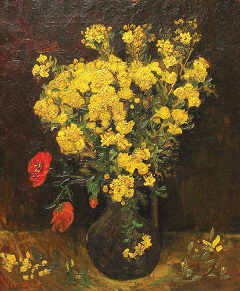 Stolen $50 million Vincent van Gogh painting recovered in Cairo airport, stolen by two Italians
The only place the Van Gogh will be going is back to the museum.
A stolen painting by the famed artist worth $50 million has been recovered by the cops at an airport in Cairo, according to Egypt's cultural minister.
Airport security confiscated the painting from two Italian bandits trying to flee the country on Saturday evening, said minster Farouk Hosni.
The painting, which goes by two titles "Poppy Flowers" and "Vase with Flowers," was stolen early Saturday from the Mahmoud Khalil Museum in Cairo.
The work is 1-foot-by-1-foot and illustrates yellow and red flowers. It is believed to have been painted by Van Gogh in 1887, three years before he committed suicide.
It's the second time the painting by the Dutch-born postimpressionist has been nabbed from the capital's museum. It was stolen for the first time in 1977 but recovered a decade later.
The details of the first robbery were never fully disclosed. When the painting was finally recovered, a former Egyptian interior minister said three of the country's residents had been arrested. Authorities never divulged if the bandits were tried or charged.