Elegant Art Jokes: FUSELI AND THE BANKER COUTTS.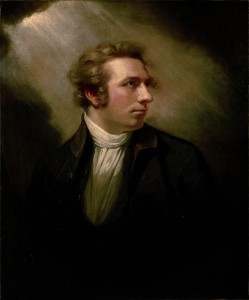 While Fuseli was laboring on his celebrated "Milton Gallery," he was frequently embarrassed by pecuniary difficulties. From these he was relieved by a steadfast friend—Mr. Coutts—who aided him while in Rome, and forsook him not in any of his after difficulties. The grateful painter once waited on the banker, and said, "I have finished the best of all my works—the Lazar House—when shall I send it home?" "My friend," said Mr. Coutts, "for me to take this picture would be a fraud upon you and upon the world. I have no place in which it could be fitly seen. Sell it to some one who has a gallery—your kind offer of it is sufficient for me, and makes all matters straight between us." For a period of sixty years that worthy man was the unchangeable friend of the painter. The apprehensions which the latter entertained of poverty were frequently without cause, and Coutts has been known on such occasions to assume a serious look, and talk of scarcity of cash and of sufficient securities. Away flew Fuseli, muttering oaths and cursing all parsimonious men, and having found a friend, returned with him breathless, saying, "There! I stop your mouth with a security." The cheque for the sum required was given, the security refused, and the painter pulled his hat over his eyes,
"To hide the tear that fain would fall" — and went on his way.