From marble to human anatomy

Feedback from Diane
I have painted since I was 19 as it was the moment I began my art studies in a French art school where I learnt trompe-l'oeil and decorative painting, faux marble, faux wood and many others techniques. I wanted to go further so after my diploma at "Mur Dec" (Nantes- France), I went to another school of art that it was world famous in trompe-l'oeil and decorative painting: the "Institut Guegan" (Quimiac- France) that was in fact a very small french atelier but where I learnt a lot about "trompe l'oeil". After my diploma in this atelier, I decided to paint my own paintings, with my own universe, and I was invited for some exhibitions.
As my studies were very intensive, there were some things today I would like to improve to go further in my skills and in art, above all in human anatomy in drawing and painting.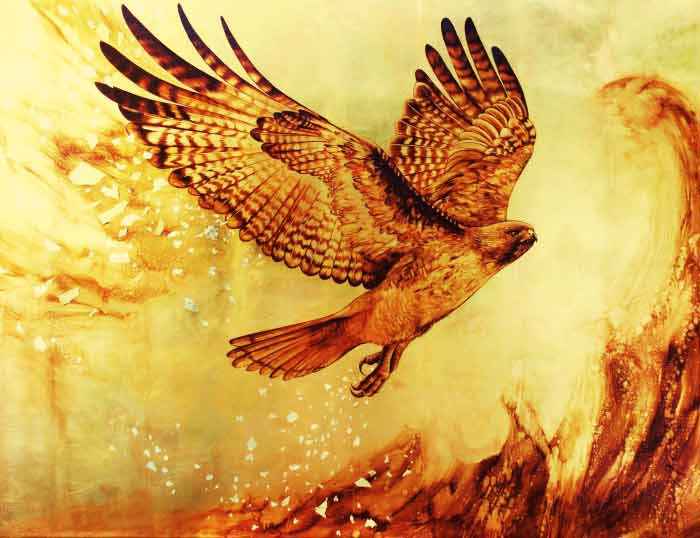 I would say without hesitation that Brad Kunkle is the "contemporary old master". Because he masters academic techniques in the way he draws and he paints: the incredible rightness of his figures in the anatomy, the made of the flesh, the expression. That is why I could say he is a "contemporary old master". His paintings are very contemporary, maybe because he manages to create a kind of abstract and dream space around his figures. He also uses gold leaves which was used a lot by our ancestors, but he uses it not as a flat area but as a dynamic part of his paintings.
I like pre-raphaelite artists, above all Waterhouse because there is in his paintings a wonderful contrast between the refinement of the figures he is painting, and the backgrounds which are painted in a very spontaneous and chaotic way with thick layers of paint and impressionist brushstrokes. This give a mysterious vitality and movements to his works.
I would like to master anatomy and drawing and also, I would like to paint with rightess flesh tones.
I learnt how to paint with glazes and now, I would like to use impasto to create more emotional and pieces of work, I would like to add more movement in my paintings.
hermesiana.com/english/index.htm