New discoveries. Works by John Singer Sargent and David Wilkie are among the finds.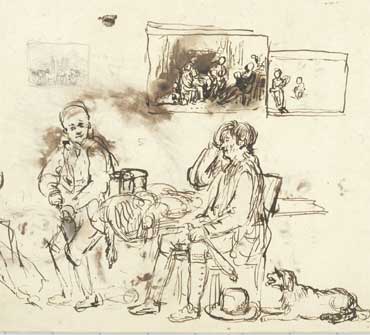 New discoveries in America's oldest public collection of drawings
Works by John Singer Sargent and David Wilkie are among the finds
By Jason Edward Kaufman
NEW YORK. The first scholarly survey of the drawings collection of the New York Historical Society has brought to light previously unknown or mis­attributed works by John Singer Sargent, Louis Comfort Tiffany, David Wilkie and others. The 8,500 works, most of which are by American artists, constitute the earliest assembled public drawing collection in the United States, begun in 1816, but they had never been systematically studied until curator Roberta Olson began the task five years ago. Nearly 200 highlights of her study, which was funded in part with a $175,000 grant from the Getty Foundation, are now on view in the exhibition "Drawn by New York" (until 7 January) and documented in a catalogue.
Among the notable findings are three unpublished drawings by Sargent from the 1870s, including a two-sided sheet with studies for his well-known paintings The Luxembourg Gardens at Twilight and Rehearsal of the Pasdeloup Orchestra at the Cirque d'Hiver, both around 1876-79. Both paintings are known in two versions, and the drawings include details that indicate which are the earlier. For example, the Historical Society's sketch of the Luxembourg Gardens includes a view of the Panthéon in the distance, which appears in the painting in the Minneapolis Institute of Arts, but not in the Philadelphia Museum of Art's version, which is now believed to be later.
Other newly identified works include a genre scene by David Wilkie, around 1810-12, and a sketch of the figure of Death, around 1846-79, by Thomas Couture, both formerly in the collection as lesser American artists, as well as an autograph watercolour by Tiffany for an unrealised stained-glass window depicting a tropical sunset, around 1923.
Of great historical interest is the discovery that 215 watercolour illustrations of birds are the remains of important 16th-century French ornithological projects. They include drawings by Pierre Vase, an artist at the court of Francis I, and texts by Benoît Textor, a physician and friend of theologian John Calvin.
Source: http://www.theartnewspaper.com/articles/New-discoveries-in-America-s-oldest-public-collection-of-drawings/16466