The Women of Pablo Picasso: Olga Khokhlova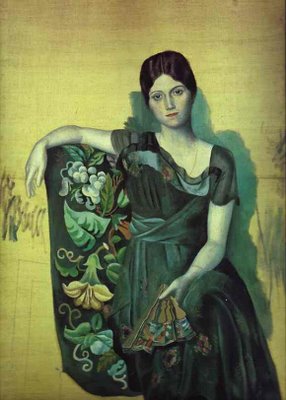 Olga Khokhlova and Picasso (1917-1927)
In 1917 ballerina Olga Khokhlova (1891-1955) met Picasso while the artist was designing the ballet "Parade" in Rome, to be performed by the Ballet Russe.
They married in the Russian Orthodox church in Paris in 1918 and lived a life of conflict.
She was of high society and enjoyed formal events while Picasso was more bohemian in his interests and pursuits.
Their son Paulo (Paul) was born in 1921 (and died in 1975), influencing Picasso's imagery to turn to mother and child themes.  Paul's three children are Pablito (1949-1973), Marina (born in 1951), and Bernard (1959).  Some of the Picassos in this Saper Galleries exhibition are from Marina and Bernard's  personal Picasso collection.