Fighting Adversity through Art
Feedback from Robyn
My name is Robyn Weinrib and I live in Indianapolis, Indiana. I live with my hubby and 7 fur babies.
I am a recovering Artist.. Nah I am an Artist but not recovering yet I'm still so very passionate about art work what ever it may be. My medium of choice is Oils. I love to work with them sooo very much. Then it's Acrylics and Watercolors. I came to art a little late in life.
I was in a bad Motorcycle  accident where I came to be in a wheelchair and the doctor said I would be lucky if I walked again. Well at least I was still alive!!
I used to dance Professionally and then of coarse after the accident I couldn't dance any longer. I had to quit that and my day job. I didn't know how to stay at home and not work. I went into a terrible depression that lasted a very long time.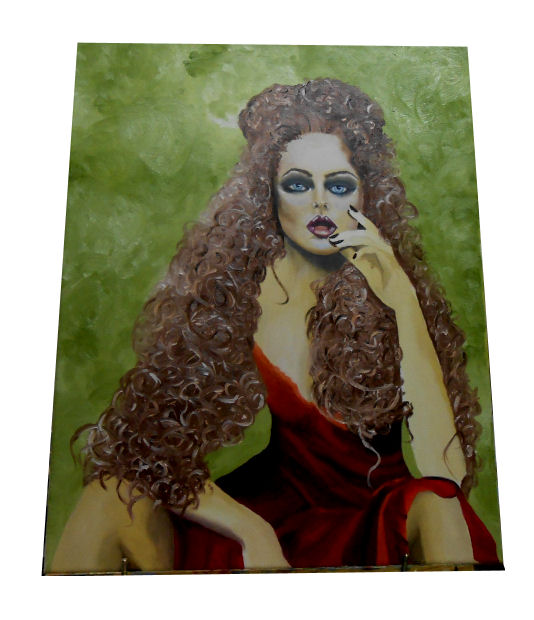 I just had to have a creative outlet. I felt very lost. In time I found Art. It took me out of my depression eventually and I studied and took classes and became very passionate about Art.
I wish now that way back in High School I would have paid more attention to Art in School or when I was in College I should have picked up some courses.
But nooooo I had to start from the beginning and learn so very much..
Do I miss Dance? yes very much so but when I feel me slipping into that slippery slope of depression I go to my art and create something. Since I'm handicapped now most of my time is given to Art. I think Art is such a wonderful Therapy for the mind. It heals for sure.
Art is so soft and fluffy to me. Oh there are many challenges but it's the Journey. Learning techniques. Failing and getting back up and starting again. Most of my work is of Women. I love to create Beautiful Women. I am learning every day and applying my new found knowledge. I love love to take workshops and classes by some of the most talented women all over the world. I feel this Course would sky rocket my abilities. My funds are very limited since I'm now on a fixed income (Social Security Disability) that winning would mean almost everything to me as I want to learn so badly. I am so very passionate about Art as I was when I was dancing. Creativity I found is a must in my life.
People should vote for me because I take learning Art very seriously and have the passion and dreams to take it as far as I can go.
ididitcreations.com