Finally an Artist!

Feedback from Tammy Powell
My path to becoming an artist was thwarted, opposed, hindered and almost destroyed by the environment in which I was born into and lived for over 30 years. I grew up in a coal mining village in Western Pennsylvania. My parents offered no encouragement for me to be an artist. To them, being an artist was not a good choice of work to allow me to become financially independent. My only choice was to graduate high school and then go to work in the local sewing factory, which I did for a few years. Fast forward thru my life of marriage, children, divorce, marriage again and then my most recent personal tragedy, the death of my oldest daughter at 38 years old in March of this year. My daughter loved to watch me paint. She was my biggest fan. Always encouraging me to keep at it. For her I will keep at it until it is my time to see her again. I am also a polio survivor, coming down with it when I was just eight (8) months old and just learning to walk. I am a mother, a wife, a grandmother, a daughter, a friend, a believer, a griever, all roles forming me into who I am today. I truly know that oil painting is what I want and love to do.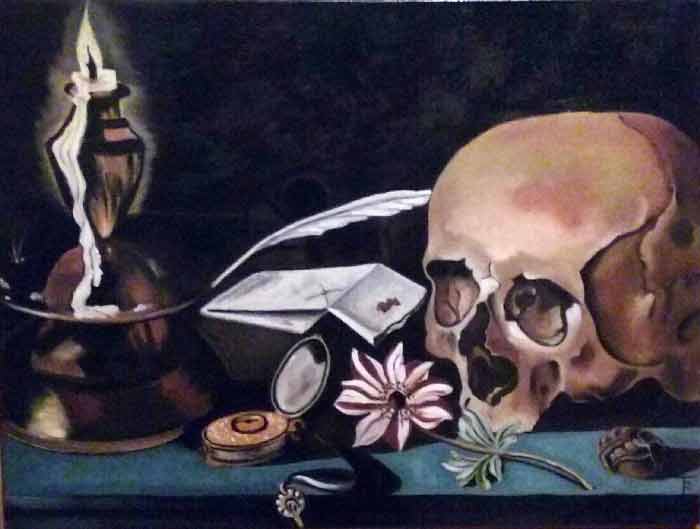 I am a member of an art studio that holds one to two art shows per year. Recent show was November 14, 2015. Each of us artists were responsible for our own staging and sales. I completed six (6) oil paintings and sold two (2) at this recent show. This is always an encouragement for me to continue to paint. My desire is to master oil painting. I know this is what I was meant to do. I do not let a day go by that I am not doing something artistic. I have the time to devote to putting them on canvas. I have the desire to learn and master the skills required and your course is where I wish to learn.
I think the "contemporary old master" is Pieter Claesz, a master of still life painting. I love his style of realism. I did a study of vanity still life with brass candlestick, writing materials, letter, pocket watch, and anemone 1625.
My favourite artist is Giovanni Paolo Panini. The patience he possessed to produce such beautiful views of Rome is amazing! I truly love his views of Modern Rome.
Thank you so much for reading,
Tammy Powell