What makes my paintings happen to be little stories?

Feedback from Dirk van der Stouw
1961: When I was a 10 years old boy, I stood in the doorstep of the main room of our rented private holiday house as if I was strucked by lightning: looking at paintings on the walls – cityviews in beautyfull colours of Arabic cities.'This is want I want to make too': was my first thought…
I started to make my first drawings in that particular holiday. It disappointed me all the time…
16 years old I tried to make my first oil paintings: copying the old masters and learning my self by reading all the books I could find and experimentalize with all my materials and fresh learned techniques.
But life took its own way with me: I was not in the position to study on one of the Academies for Art and Drawing. I had to look for a job to earn enough money for living my life on my own, so I choose a study for teaching Physics, Chemistry and Biologics on highschool.
After 10 years practicing teaching,I moved for a career at ProRail as a Project-manager for infrastructure, but all my free time I spend in my atelier, making sculptures, paintings and drawings as much as I could. But it was always good enough for myself or for a payed ordering:I don't felt the need for exposure at this period in my life.
I'd decided to take my time and teach myself more and more with good learning-books, I did some painting classes with successful painters as Raymond Huisman, Daniel Douglas and Henk Huig (old master techniques at academical level) and at this moment I follow online lessons at the Drawing Acedemy.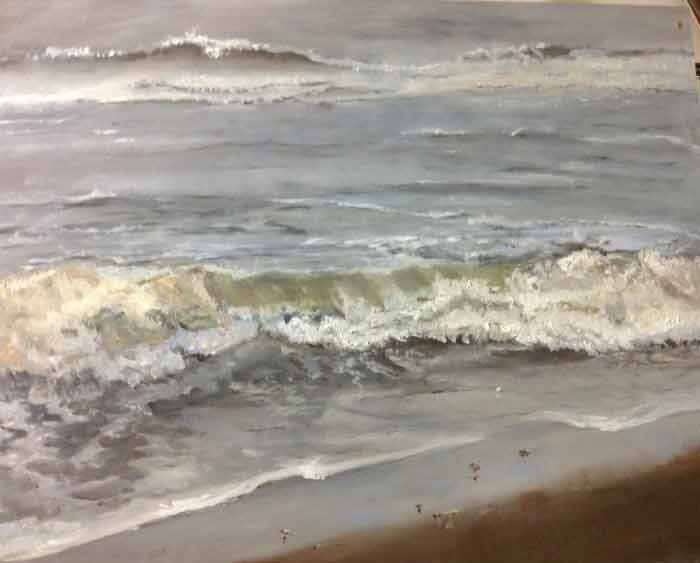 Now, as a retired man, in the luxury position of having enough time and freedom to learn and to create: I can work daily at my main challenge: learning to tell stories in realistic painting, drawing and sculpture. Stories about what persons move in the occosian I am painting or what is going to happen in my landscapes or cityviews or what just has happened there. Concerning my portraits: I want to express the character and soul of the portrayed person.
At this moment I feel free to share my works with others on the internet. For example by this challenge and of course, when it is finished in a few months, by my website www.arsexcipiendi.com
I think the "contemporary old master" is Lita Cabellut: she combines in a perfect way the style of old portrait techniques in a complete free and modern setting. She paints her own stories, that's why it fascinates me.
My favorite artist is the Late Rembrandt because of his discovery of the real essentials in all his compositions and his courage to free himself from prescribing conventions; Jan Voerman because of his understanding of the special light of Holland skies; John Singer Sargent because of his compositions of portraits and landscapes cityscapes and his wonderful natural colored scenes (like: "Street in Venice") and and his position between fine art and impressionism; Edward Hopper because of his truly understanding of what light really means in painting compositions.
The beautiful poem of Lita Cabellut expresses exactly my motivation and what my main challenge definitely will be:
If my brushes
Were not able to speak
If my feet
Were not able to take a step forward or back
To gain perspective on what I see
If in my head
Confusion and doubt were not reigning
If I don't cry
I laugh
If I was not dazzled by white
And moved by indigo
What loneliness
What loneliness
I would have with myself
I work in series, so the process of paintings starts with finding the concept.
To sit in a chair and not move until I have the project in mind
I am more than a painter, I am a storyteller.
LITA CABELLUT (BARCELONA 1961)
I hope The Webartacademy can help me to find the freedom to excercise the whole realistic scene in a new. modern way, based on the old masters: their techniques and knowledge they have brought in their world of paintings and drawings.
On the internet I'm always looking for paintings and video/articles that exposes techniques for improving my self. So the Webacademy found ME, someday. And, yes, I found very interesting stuff about the Russian realistic painting academy's. And ofcourse all the lessons and videos of old master-painting techniques, 21th age freestyle realistic portrait techniques and so on. I'm really in for the challenge to win my membership. I've already arranged a lifetime membership of the Drawing Academy, very well-known to you!
arsexcipiendi.com